Rustic Bread Baking
October 7 @ 11:00 am

-

3:00 pm

$35.00
Explore a hands-on experience in bread baking in an outdoor, wood fired oven!
Warm homemade bread, fresh out of the oven, is a sumptuous culinary repast! Try this hands-on experience in rustic bread baking and you can learn how an outdoor wood fired oven works, and bring home your own loaf to share (or not!).
This workshop begins by following a Rustic Yeasted Bread recipe that will be kneaded and coaxed into a loving loaf of bread that will be baked in an outdoor, wood fired oven. During the rising time, participants will collectively make a bakers' snack.
Every baking experience in the outdoor oven is unique! Feeding the fire, heating the interior of the oven high enough for quick bakers' snack and stepping the temperature down for the bread baking has its challenges. We will share with you how it all works and keep our fingers crossed for a great bake day!
This workshop is open to individual adults, couples, and to children (ages 11 and up) with an adult partner. Each participant/pair will prepare and bake one loaf of bread to take home at the end of the session.
Please note: We will ask registered participants to bring an apron, large mixing bowl, 1-2 oven mitts, a large, clean dish towel, zip lock bag, and a large paper bag (to carry bread home).
Optional, but helpful: while a seasoned 8″" up to an 11″" cast iron skillet will be provided you may bring your own to bake in (no enamel).
A little about your instructors:
Susan, is a licensed mental health counselor, a former nutrition educator at family childcare homes, and enjoyed demonstrating cooking and baking using a wood burning stove at an outdoor ethnic history museum. Robin, a retired earth science teacher, taught middle school students the art and science of bread baking.
PLEASE NOTE: Pets are not permitted on the NJSOC Campus.
Refund Policy:
Your event fee, minus Eventbrite Fees, is fully refundable if cancelled 7 or more days before the event. In the case of a multi-day event, you must cancel 7 or more days before the first day of the event. No partial refunds are given if you cannot attend all days of the event. While we appreciate being notified if you are unable to attend an event, refunds are not given for cancellations within 7 days of the event.
For events that are weather-dependent, a raindate/reschedule date is included in the event description. We do not offer refunds if an event is rescheduled for the specified date. If we must cancel an event, your registration fee, including Eventbrite fees, will be refunded.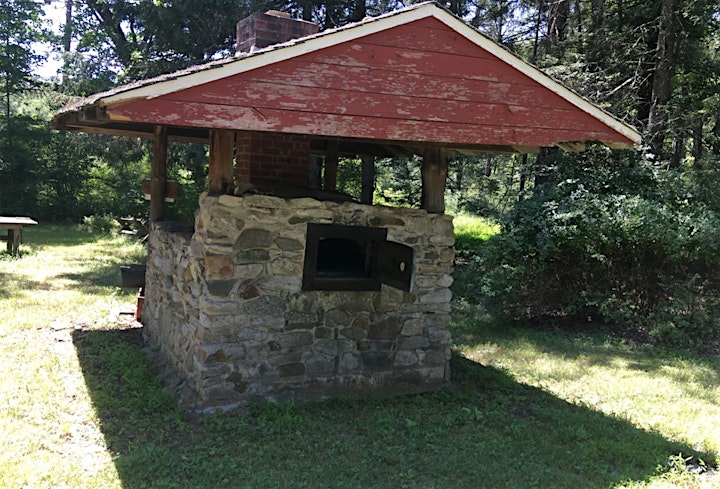 Wood-fired outdoor oven for bread baking.